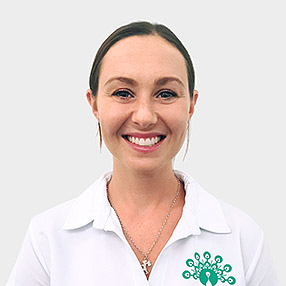 Qualifications:
Bachelor of Physiotherapy
McKenzie Credentialled
Dry Needling PAANZ
HCPC
MCSP
Favourite things to treat:
Lower Back and Neck Pain.
Bio:
Growing up, Kelly was a keen sportswoman, playing regional level netball, representing NZ in sports aerobics and competing nationally in surf lifesaving. Over the years she suffered her fair share of injuries, from strains and sprains to a ruptured Achilles Tendon. Knowing first-hand just how frustrating injuries can be, Kelly was inspired to pursue a Bachelor's Degree in Physiotherapy and she went on to graduate from the University of Otago with Distinction.
Following this, she spent the next three years working within the musculoskeletal private practice sector in Wellington, NZ. During this time, she gained valuable experience working at one of the five certified McKenzie Clinics in the country, treating a broad range of musculoskeletal conditions and injuries. This subsequently led her to complete post graduate examinations and become a McKenzie Credentialled Therapist herself.
Although competent in treating all musculoskeletal conditions, Kelly has a keen interest in helping those suffering from lower back and neck pain, and/or pain referring to the limbs from these areas. She also takes a holistic approach to treatment, looking at all potential causes for pain or injury, and working alongside her clients to both reduce their symptoms and address the root cause of their pain or discomfort.
She is a strong advocate for client education and self-management, utilising McKenzie method treatment techniques and patient specific exercise prescription. Her treatment techniques also include hands-on therapy such as joint mobilisation, massage/trigger point release and taping.
In her personal time, Kelly continues to maintain her interest in sport and physical activity, with her newfound passion for the circus arts – aerial silks and trapeze, to be precise. Fascinated by the practice, she's also been using this experience to learn more about injury prevention and rehabilitation for these athletes.