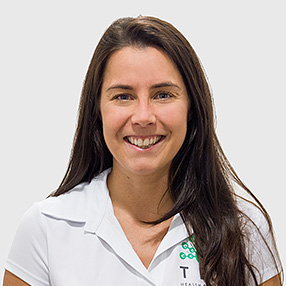 Qualifications:
Registered with HCPC
Registered with CSP
Bachelor of Physiotherapy
Dry Needling Qualification
Favourite things to treat:
Shoulders, knees, necks and lower backs.
Bio:
Registered member of the Health and Care Professions Council.
Graduating from the University of Notre Dame in Australia in 2010, Kendall spent several years focussing on her passion for sport and wellness, working in several private clinics across Perth and also with the city's hockey and AFL (Aussie Rules) teams. She was the Head Physiotherapist/ Trainer for one of the top hockey clubs in Perth, working with some of the Olympic Kookaburra players.
In 2014 she moved to the UK for the first time, gaining additional experience at some of London's leading clinics.
After a stint back in the Perth sunshine of, Kendall is back in London where she continues to promote healthy living in such a fast-paced city.
Kendall takes a hands-on approach to treatment, Using a combination of manual therapy, dry needling, Pilates and exercise rehabilitation – along with a focus on client education and motivation, she believes that her patient will not only see improvements with pain and movement, but will also see a corresponding improvement in their quality of life.
She is a firm believer that posture – good or bad – plays an instrumental role in our lives, and therefore any injuries. So expect a strong focus on postural correction and alignment in your sessions with her and in any corrective take-home exercises and stretches.
Growing up in a very active family, Kendall's free time was spent around sport both as a spectator and a competitor. Water polo, swimming, netball and running were key elements in her family's sporting year (along with a range of resulting shoulder and knee injuries). Perhaps unsurprisingly, these are two of her favourite areas to treat, along with necks and lower backs.
Kendall may be small but expect a big personality, matched by a keen determination to get you back to where you want to be.