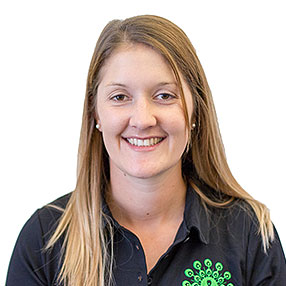 "Think of movement as opportunity, not an inconvenience"
Qualifications:
BSC in Human Movement and Sports Science
Graduate Diploma in Clinical Exercise Physiology
REPs Level 4
Level 4 cardiac exercise instructor (BACPR)
Level 3 in Sports Massage
Kinesiology taping
Favourite Exercise:
Standing or seated rows. Rotator cuff exercises for postural correction.
Bio:
Growing up in Australia, Kim played any sport available, from tennis, basketball, calisthenics to athletics. At the age of twelve her mum made her choose two sports she enjoyed most to continue with long term, which ended up being softball and netball. A few years later, playing competitive level in softball she developed an awareness for exercise and rehabilitation and, it's where her interest in anatomy and physiology started.
Kim completed her first degree in Human Movement and Sports Science in Adelaide. Her course provided valuable exposure to populations needing lifestyle modifications and health awareness, along with the opportunity to help them. The experience inspired Kim to complete a further degree in Exercise Physiology. She then worked for two years in Australia with a variety of populations suffering from chronic musculoskeletal and clinical conditions prescribing exercise to individuals with co-morbidities, including cardiovascular, metabolic and respiratory conditions.
Kim joins the TenClinical team after four years experience working in the NHS at Guy's and St Thomas Hospital and brings a wealth of experience in clinical exercise prescription. This included specialised experience in diabetic populations, where she found particular satisfaction in helping her patients improve blood glucose profiles and reducing/prevent the need for further medication.
Kim loves helping her clients achieve their goals, big or small, and seeing the physical and mental differences these successes can make. She is massively client-focused and is an advocate of incorporating exercise into daily living whilst keeping it enjoyable. She enjoys nothing more than proving to people that you are never too young, too old or too 'unfit' to exercise.