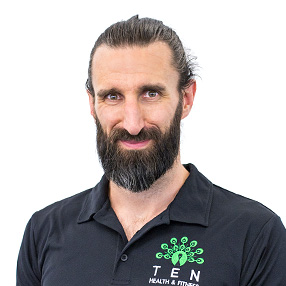 Qualifications:
Certificate of Higher Education in Sport Science
Functional Range Conditioning Mobility Specialist (FRCms)
Register of Exercise Professionals (REPs) Level 3 Personal Trainer
TRX Instructor
Kettlebell Instructor
ABA Level 1 Boxing Coach
ASA Level 1 Swimming Coach
STA Swim Teacher Full
Classes:
Favourite Exercise:
Controlled Articular Rotations (CARs) – the only group of exercises that are suitable for all people, all of the time. Not the sexiest of exercises, but essential in maintaining joint health and an active range of motion. They should be the foundation of any training programme.
Bio:
Master Trainer and Head of Personal Training at Ten, Lenny has over two decades' experience as a coach across the fitness and sporting spectrum, with 15 years of that time spent in the British Army as part of the Royal Army Physical Training Corps.
During his time in the military he deployed on operational tours of Iraq and Kosovo and completed the infamous and arduous Pre-Parachute Selection Course (P Coy), earning him the right to wear the coveted maroon beret and parachutist wings. Lenny subsequently served with the elite 16 Air Assault Brigade as a Para-trained soldier.
In his peacetime role, one of his primary responsibilities was ensuring all 500-plus officers and soldiers within his Regiment were fit to serve. He managed a team of instructors who assisted him in delivering a robust programme of training, delivered across the range of abilities from those returning from injury through standard PT and onto obstacle course and unarmed combat modules.
After leaving the forces, Lenny took a year's break from fitness and worked as a close protection operative in Basra, Southern Iraq. Upon his return he found his way back to coaching, initially working as a PE Teacher/Strength and Conditioning coach in the private school sector before moving to London in 2015 to begin a Personal Training career in the commercial sector.
Lenny has always been a keen sportsman and in more recent years has turned his attention to climbing. Previously he had a 10-year boxing career in the Army and competed in cross-country, athletics and basketball. However, football was where he excelled representing the Army Senior Team for a large part of his career and playing at semi-professional level for teams in the UK and in Germany.
Leading with a "human first, specialist second" approach, Lenny is convinced that the further we stray from what evolution has designed us to do, the further we stray from health.
For him, there is simply no one-size-fits-all approach. Instead we are all a unique Rubik's Cube of conditions, adaptations and issues that has been formed by our preferences, experiences and lifestyles, and solving some of these puzzles is frequently the key to achieving our goals.
By re-establishing some of the more 'human' elements to our approach, whether that be increasing range of motion and joint health or improving gut health and sleep performance, we are better able to make the progress we're looking for. And quite often, progress is made by streamlining what we do outside of the gym.
Lenny is not actually his Christian name, but only his mother calls him Philip.
He lives in Hackney with his girlfriend and 3 cats and is father to 2 beautiful daughters. He is a huge fan of electronic music and can often be found at the weekend digging in record shops to add his ever-growing collection.