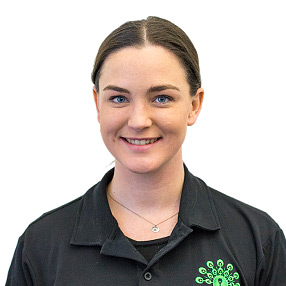 Qualifications:
Bachelor of Arts in Human Movement Science
Bachelor of Medical Science Honours in Biokinetics
Body Arts and Science International (BASI) Pilates Mat Work
Dynamic Reformer Pilates
Pre/Postnatal Qualified
Level 3 Personal Trainer
Classes:
Favourite Exercise:
Oblique Pike
Born and raised in South Africa, Lyndall's interest in health and fitness stems from a young age. Since she was 8 years old, she was part of a lifesaving fraternity and represented both KZN and Gauteng in Surf and Stillwater Lifesaving.
Having served her community as a voluntary life guard at various aquatic venues for over four years, it's no surprise that her interest in physical fitness and medical related services developed further and led her to pursue a Bachelors of Arts in Human Movement Science.
She then went on to further her education and achieve a Bachelor of Medical Science Biokinetics, giving her the knowledge to improve a person's quality of life through individualised assessments and scientifically-based exercise prescription.
Following this, she secured a placement at the Sport Science Institute of South Africa where she worked in both the Orthopaedic and Neurological Centre, and the Fitness Centre, allowing her to further her knowledge and gain valuable experience with various clinical populations.
Lyndall focuses on the maintenance of her clients physical abilities, helping them to become fit, healthy and pain free. Her approach is considerate, encouraging and personal, and she prides herself on her ability to improve the quality of her client's lives through the quality of their movement.
When she's not in studio, she's most likely to be exploring (and enjoying) London's many food markets or enjoying a walk around the park.