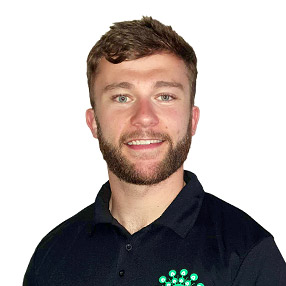 "Believe you can, and you're halfway there."
Qualifications:
BSc Sport, Health & Exercise Science
Favourite Exercise:
Dead Bugs; looks simple, but when done correctly, deceptively hard. A strong and stable core is at the centre of everything we do.
Bio:
Matt believes that having a passion for what you do is one of the keystones to happiness. He developed a love for sport and fitness at an early age, turning his hand to any sport he had the time to try.
This passion continued to grow throughout school and university, where he studied Sport, Health and Exercise Science, specialising in human physiology and the beneficial effects of exercise. After graduating, Matt honed his clinical rehabilitation skills whilst working within cardiac and cancer care.
Matt enjoys nothing more than being a part of his clients' journeys, working with them every step of the way to meet their health and fitness goals, whatever they may be.
In Matt's view, one of the most fascinating parts of clinical exercise prescription – and exercise in general – is that no two people are the same. During his sessions you can be assured that every individual's needs, goals, and requirements are carefully considered, with each person receiving a programme and experience truly unique to them. Matt believes the greatest success of his day is when his client leaves their session with a smile and a sense of achievement.
Outside the studio, you'll likely find Matt in the gym, on the rugby pitch, or running on the streets of London. Besides sport, he also enjoys experimenting with healthy recipes in the kitchen, accompanied by good music and bad singing.