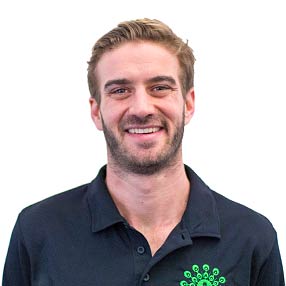 "It is through the alignment of the body that I discovered the alignment of my mind, self, and intelligence." – B.K.S. Iyengar
Qualifications:
200 Hour Yoga Alliance Approved Teacher Training
Classes:
Favourite yoga pose:
Halasana = Plow Pose &  Virabhadrasana II  = Warrior 2
Bio:
Born in Nassau, Bahamas and raised there, Dar-es-salam, Hamburg, and Vienna, Matthew then relocated to the slightly less exotic Sheffield University to study History.
Following a year traveling the world Matthew moved to London where he first found his way onto a yoga mat over ten years ago. He has recently returned from a yoga-focused sabbatical in Sri Lanka.
Originally instructed to practice yoga by his GP following a series of lower back and hip ailments stemming from spending all day at desk job in the city, Matthew found that he kept coming back to mat not just for the physical benefits but also because he found it "reduced the white noise in my head".
Driven to become a teacher to share how yoga has benefited him and hold space for people to explore and express themselves, Matthew welcomes all levels to his classes.
For Matthew yoga is a conduit for finding your own truth and this is reflected in the grounded nature of his classes. Expect a practice that will leave you feeling strong, centred and calm.
When he's not on the mat or looking after the Chiswick Studio as CSM, Matthew can be found offline and outside finding a connection to people and the world that doesn't require wifi.