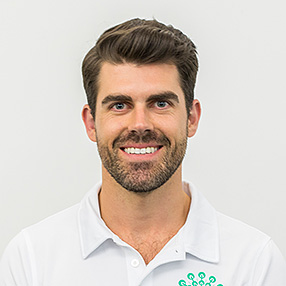 Qualifications:
Bachelor of Physiotherapy (Hons I) – Griffith University, Australia
Bachelor of Exercise Science – Griffith University, Australia
HCPC
MCSP (Chartered Society of Physiotherapy)
MAPA (Australian Physiotherapy Association)
AHPRA registered (Australian Health Practitioner Regulation Agency)
Strength and Conditioning Coach (ASCA)
Dry Needling (APA accredited)
Fundamentals of Hand Therapy (AHTA)
Vestibular Rehabilitation
Favourite things to treat:
Pre & post operative orthopaedic management
Sports specific screenings
Exercise rehabilitation
Hand & wrist injuries
Gymnastic injuries
Bio:
Miles grew up on the Australia's Gold Coast, remaining in Queensland to study at Griffith University, completing his Bachelor of Exercise Science and a Bachelor of Physiotherapy with Honours.
He relocated to Tasmania in 2011, to complete his graduate training the Royal Hobart Hospital, gaining experience in many different areas including Hands, Burns and Plastics, Orthopaedics, Acute Rehabilitation and Intensive Care. Miles then continued at the Royal Hobart Hospital part-time, in a senior support role supervising and educating junior physiotherapists.
In addition to this, Miles worked in the leading private practice in Hobart, alongside Olympic level and specialist physiotherapists. During his time in private practice, he spent two years providing physiotherapy services to Tasmania's State Gymnastics Team. His clients have also included national level professional athletes including Olympic Rowing and Water Polo, as well as AFL, Netball and Tennis players.
He remains a member of the Australian Physiotherapy Association, and is continuously updating his skills and knowledge through professional development. Most recently Miles completed the Lyn Watson Shoulder Course, three additional certifications in Western Dry Needling and Trigger Point Release, as well as The ASCA Level 1 Strength and Conditioning Coaching Course. With a growing interest in hand therapy, Miles has also gained his certification from the Australian Hand Therapy Association in the Fundamentals of Hand Therapy.
Miles' main focus remains on working with clients on achieving their goals, through a whole body approach to physiotherapy and client specific rehabilitation. Miles is especially concerned with treating the main cause of complaints to prevent their return. Utilising a variety of specific movement screening, hands on therapy and targeted rehabilitation, Miles is passionate about achieving the best outcome for his clients.