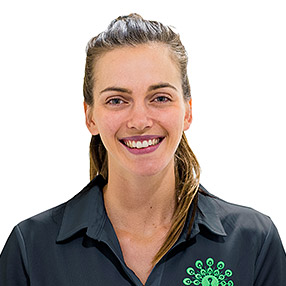 "Biggest problem - biggest opportunity"
Qualifications:
Bachelor of Physiotherapy (Hons), University of Queensland
Dry Needling and Western Acupuncture
Registered with HCPC, MCSP
AHPRA: Australian Health Practitioner Regulation Agency
APA: Australian Physiotherapy Association
Mat Pilates experience
Trained in use of Pilates apparatus: Ladder, Chair, Barrel
Pre/postnatal qualified
Ten's Dynamic Reformer Pilates Academy
Classes:
Favourite Exercise:
Plank, Double trouble hip stretch, Skater
Bio:
As a practicing Physiotherapist, Montana understands the importance of core stability and functional strength, particularly when recovering from injury. It was for this reason she chose to complete Ten's Academy and train in Dynamic Reformer Pilates.
As both a Trainer and a Physio at Ten, Montana thoroughly enjoys the balance between teaching classes and seeing clients for Physiotherapy – both have elements that crossover. Being full-time at Chiswick, she loves getting to know clients on an individual level, rehabilitating them, and then following them through into the class setting while still monitoring their injury.
Being a keen runner, Montana's classes include elements crucial to building a strong but balanced body. She believes pelvic stability to be a vital factor for good biomechanical movement, so glutes and abdominals feature in her regular repertoire.
Don't be fooled by her relaxed personality and chilled music, you are guaranteed to work hard in Montana's classes and leave with an endorphin hit, ready to tackle the rest of your day.