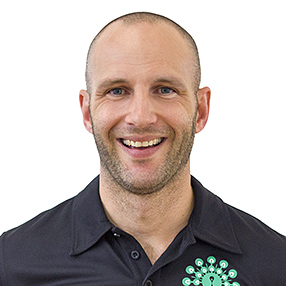 "I firmly stand behind the concept of prehabilitation - using rehabilitative and corrective exercise as a means to prevent injury."
Qualifications:
Pilates Method Alliance – Certified Pilates Teacher
Australian Physiotherapy and Pilates Institute, Pilates Teacher
NASM Certified Personal Trainer
NASM Corrective Exercise Specialist
NASM Integrated Flexibility Specialist
NASM Junior Athletic Conditioning
SAQ – Speed, Agility & Quickness certified
TRX Certified Instructor
Pre/Post Natal Certified
Classes:
Favourite Exercise:
Snake – A great exercise to integrate all of the muscles in the body, 3-dimensionally.
Bio:
Neil has over 22 years' fitness industry experience, managing everything from large corporate gyms to small boutique-style Pilates studios. Neil was the third Trainer to join Ten in 2008 and one of our very first Master Trainers and Studio Managers, working his magic on our Chiswick studio and our first Mayfair Studio. In 2016 we welcomed him back as our Head of Fitness for his expertise in helping clients master the fundamental movement patterns that underpin everything from our daily activities to even the most complex exercise sequences and intensive sports.
In 2011 Neil took his skills and experience to Texas where, alongside his wife, he set up his own Pilates studio – Green Park Pilates. In 2013 he relocated to California to teach Pilates, rehabilitative exercise, strength & conditioning and fitness classes at some of San Francisco's leading boutique fitness studios. He also trained and qualified as a firefighter and paramedic working in San Bernadino, one of the most deprived cities in the state.
As a Personal Trainer he enjoys working with clients who have a clear view of the results they would like to see (regardless of what those results may be) as the best way of giving both client and trainer a strong rationale for preparation and exercise selection.
He firmly believes in the key role Pilates plays in a well-rounded exercise regime. He's also an advocate for the pivotal role Pilates plays in injury rehabilitation and in the reformer as an extremely important piece of equipment when recovering from injury for its ability to allow a client to focus on the alignment of their body whilst engaging important stabilising muscles. Whatever the exercise method or piece of equipment, Neil is able to pull the best from it. For him there is value in a wide variety of fitness disciplines and the benefits of opening ourselves up to new exercise experiences.

Neil has spent most of his sporting life playing football and in the last four years has competed in Marathons and Triathlons – enjoying the process of preparing for an event and putting his vast and in-depth fitness knowledge to practical use.