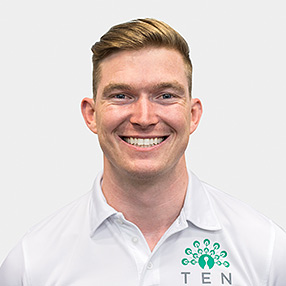 Qualifications:
HCPC
APAM
BPHys
CSP
Dry Needling
APA Sports Physiotherapist L1&2
Favourite things to treat:
Cervical spine and Knee (ACL Reconstruction).
Bio:
After graduating with a Physiotherapy degree in Sydney, Australia in 2015, Nick gained experience in private practice treating a variety of musculoskeletal conditions for a range of ages and abilities. Pursuing his passion for sport, he then worked with numerous athletes, becoming head Physiotherapist for teams in both Rugby League and Rugby Union. Here he managed rehabilitation from initial injury to return to sport. During this time, he gained valuable side line and in-clinic experience, gathering further insight into injury prevention and sport-specific management. Nick now brings this knowledge to his private practice where he still works closely with athletes of all abilities.
Nick is very much hands-on when treating, with additional qualifications in dry needling to provide a well-rounded approach. Being an avid gym-goer himself he also applies this personal knowledge of exercise technique and training methods when working with his clients. Nick believes in looking at the whole patient and not just treating their symptoms.
After relocating to London in 2019, Nick initially spent some time at the Royal National Orthopaedic Hospital to refresh his acute surgical management knowledge. This proves extremely beneficial to his private practice patients as he has a better understanding of what they can expect post-operatively. It also contributes to the great relationship he has with his consultants, as they are assured he can provide continuity of care for patients the whole way through rehabilitation.
Outside Physiotherapy, Nick has a keen interest in Rugby and looks forward to redeeming some Aussie pride on the pitch here. As with all ex-pats he is very keen to explore more of the UK and Europe.