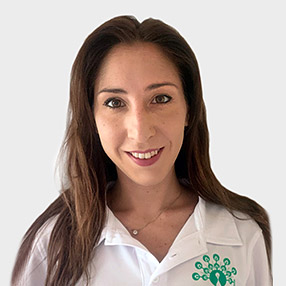 Qualifications:
HCPC
CSP
BSc in Physiotherapy (University of Rome)
MSc in Sport Physiotherapy (University of Pisa)
MSc in Sport and Exercise Science – Strength and Conditioning (University of East London)
Certified Manual Physical Therapist – NAIOMT
Certified Orthopaedic Manipulative Physical Therapist – NAIOMT
Certified Strength and Conditioning Specialist – NSCA
Dynamic Reformer Pilates
Favourite area to treat:
All sports and work-related injuries, with a particular interest in pre- and post-operative rehabilitation, chronic pain, movement and postural dysfunctions, shoulder, back and knee injuries.
Bio:
Hailing from Italy, Paola graduated from the University of Rome in 2014 with a Bachelor's Degree in Physiotherapy and went on to complete her Master's Degree in Sports Physiotherapy at the University of Pisa in 2016. She then continued to expand her knowledge, embarking on high profile international courses, including the Certificate in Manual Physical Therapy and the Certificate in Orthopaedic Manipulative Physical Therapy. Following her passion for sports and performance, she came to the UK to start a Master's Degree in Strength and Conditioning at the University of East London.
Paola has gained years of experience as a Physiotherapist, initially in Italy and since 2017 in the UK, working in multi-specialty clinics, sports clubs and leisure centres. In this time, she has honed her skills in assessing, treating and reconditioning a wide range of musculoskeletal, sports and work-related injuries.
Paola believes in the importance of listening to her clients, gathering a detailed medical history and performing a lifestyle analysis in order to develop bespoke treatment plans which aim to decrease pain, restore function, enhance sports performance and improve quality of life in the long-term. She has a hands-on approach involving mobilisations and manipulations, which can be accompanied or followed by a tailored exercise plan focused on the client's short- and long-term goals.
An avid sports person herself, she has played volleyball for 10 years and has practised a variety of sports including Thai boxing, surfing, kitesurfing and climbing. She also regularly trains in the gym and dabbles in running.
In the rest of her free time, Paola loves travelling, cooking and spending time with her family and friends.