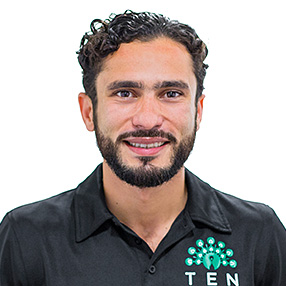 "A good physical condition is the first requirement for happiness. Move better, live better."
Qualifications:
Dynamic Reformer Pilates – Ten Health & Fitness
Level 3 Personal Trainer and Exercise Referral certificate
Tui Na massage – Shen
Post-graduate in Physiology of Exercise – IBGM
Physical Education – Federal University of Pernambuco
Classes:
Favourite Exercise:
Oblique lateral raise.
Bio:
Born and raised in Brazil, Rafael has always had a keen interest in sport and exercise, enjoying everything from football to handball, volleyball to basketball, running to capoeira and swimming to surfing.
His passion for exercise and for understanding the positive effect movement has on the human body led him to complete an undergraduate degree in Physical Education in 2008, followed by a postgraduate degree in Physiology of Exercise in 2015.
After graduating, Rafael began his career working as a personal trainer for both adults and children. Throughout his career he has also been involved in coaching and teaching a range of sports, leading capoeira groups, running social projects, organising boot camps and sports championships, and he even founded his own running group.
Believing that the human body truly is made to move, Rafael credits the skeletal system as the thing that allows us to live our lives to the maximum.
It's this interest in musculoskeletal health that led him to train both as a Pilates instructor and study Tui Na massage, further improving his knowledge and understanding of human anatomy and in turn helping him to address muscular imbalances.
Having previously worked with people who faced hernias, disc protrusion, sciatic nerve issues, back pain and postural imbalances, Rafael enjoys helping people improve their quality of movement, overall fitness and general health.
This experience also taught him the importance of looking after our bodies, so that we can continue to live healthy and active lives without aches and pains.
Rafael takes a tailored approach to each client, understanding their needs, respecting their limitations and observing existing imbalances in the musculoskeletal system, which enables him to develop individual plans to help his clients achieve their goals. Whether that is to reduce pain and discomfort or increase tone, his programmes are developed to help clients strengthen the right muscles and restore balance.