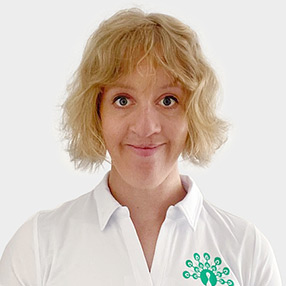 Qualifications:
DSE assessments
Sport massage
HCPC registered
BSc Hon Physiotherapy (Queen Margaret University, Edinburgh)
MSc Sports Medicine Exercise and Health (University College London)
Favourite Things to Treat:
Hip and knee pains
Runners
Strength and conditioning for performance and injury prevention
Rebecca has always had a keen interested in sport, health and exercise. Over the course of her career, she has work in rugby, football and musculoskeletal clinics. She has a keen interest in runners and gym training.
She graduated from Queen Margaret University in Edinburgh in 2013 and has been working in sport and musculoskeletal physiotherapy since then. With 9 years behind her, she has a wide knowledge base, from acute injuries, chronic injuries, pre/post op rehab and sports rehab.
Alongside her physiotherapy, she has vast knowledge about performance and how utilise strength and conditioning to improve your sport. From runners to rugby players. She is currently completing her Strength and Conditioning Coach qualifications.
Rebecca is a great believer in working with her clients, and get them to their goals. Anything from being able to walk daily, to running an ultramarathon. She wants to help reduce the risk of injury and improve your overall health and wellbeing. She wants to make sure that her clients feel listened to, and are a part of the journey.
Rebecca will treat all areas, with a special interest in lower limb injuries, and sport injuries. She also has a keen interest in running and CrossFit. These are sports she works on herself. She runs on average 2 marathons a year. In 2021 she completed Race to the Stones, a 100km race.