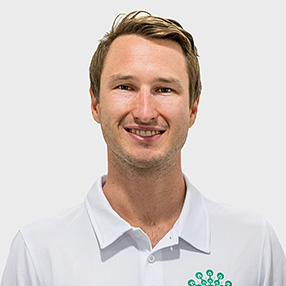 Qualifications:
Doctor of Physiotherapy
Bachelor of Exercise Science
AHPRA
HCPC
MSCP
Member of Australian Physiotherapy Association
Dry Needling
Favourite things to treat:
Tendon pain, hip and groin injury, running injuries, ACL reconstructions, neck pain and headaches, thorax and lumber dysfunction, conservative and surgically managed shoulder injuries.
Bio:
Registered with the Health and Care Professions Council.
Born and raised in Australia, and having played a variety of sports – including Cricket, Football, Golf and Gymnastics – from a young age himself, Rian has always had an interest movement and been fascinated by anatomy. And it was this interest that inspired him to pursue a Bachelor's degree in Exercise Science.
During this time, he developed his belief in promoting movement centred rehabilitation, evidence based practice and holistic care and went on to complete his Doctor of Physiotherapy Degree.
Since then, he has gained over 5 years of experience across both the public and private health sectors. Having worked with a multitude of professionals such as Orthopedic Consultants, Sports Physicians, Strength and Conditioning Coaches, Pilates Instructors and even Mental Health Practitioners, Rian has treated a multitude of patients ranging from post-operative to sports performance.
Whatever his patients goal may be, he is passionate about helping them achieve it and he feels that all treatment starts with building a strong patient-therapist relationship. He also believes that every experience should be a positive one and every treatment should contribute to both the immediate goal and future management.
When he's not in treatment room, good luck trying to find him as he enjoys hiking, surfing and travelling when he can!