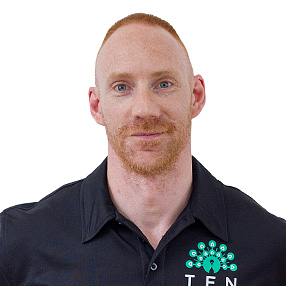 "Non sine consilia" (No action without forethought)
Qualifications:
TenAcademy
EXOS Performance Specialist
Level 5 Advanced Clinical Weight Loss Practitioner
Level 3 Advanced Personal Trainer
Studio Cycling Instructor
Circuits Instructor
Gym Based Boxing Instructor
Classes:
Favourite Exercise:
Rotational SA Med Ball Press
Bio:
With a martial arts background – competing in Judo, Muay Thai, Boxing and MMA from the age of 10 – Rob has been involved in movement-based fitness for over 25 years. As a result, he prioritises function over form, knowing that aesthetics will come if exercise, movement patterns and nutrition are right.
An advocate of a science-based approach, Rob is constantly looking to improve his knowledge and keep up-to-date on how to most effectively improve and maintain both his and his client's health. Fast fixes and fad diets and exercises are anathema to Rob, and he loves to demonstrate to his clients that continuous small changes to behaviour, exercise and diet bring results that last.
Having trained a wide variety of clients – from martial artists in peak condition to people recovering from injury, from actors to doctors – Rob knows that everyone has different lives and fitness requirements, and has the experience and expertise to match his approach and techniques to his clients' needs and goals.
When he's not training either clients or himself, he's most likely to be brushing up on his expertise by reading the latest exercise and injury related papers. And when he's trying to relax, he's partial to the odd stroll or two around the countryside.