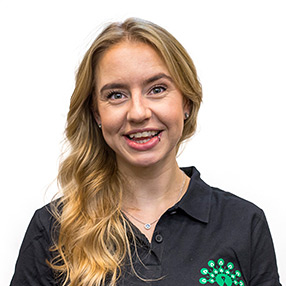 "Change happens through movement and movement heals"
Qualifications:
Level 3 Mat Based Pilates
Level 3 Award in Nutritional Intervention for Exercise, Wellbeing and
Weight Management
Level 3 Award in Pre and Postnatal Exercise
Favourite exercise:
Shoulder bridge.
Bio:
Sam has danced for as long as she can remember. This grew into a decade-long professional  career, which saw her perform on stages all over the world, sail the seven seas and even run away with the circus! Being able to travel, explore new cultures and experience what each place has got to offer is one of her greatest passions.
Sam has always been interested in how the body moves and how we can push ourselves to achieve our goals through movement. Through her dance training, she was introduced to Pilates. Once she had discovered the practice, she knew exactly where her career would take her next.
After suffering an injury and seeing first-hand the benefits of exercise – not just for the body, but also the mind – she set out to help others feel the same. She loves to see her clients reach new goals, and to be their cheerleader all the way. Ultimately, her clients come to recognise their own strength and abilities.