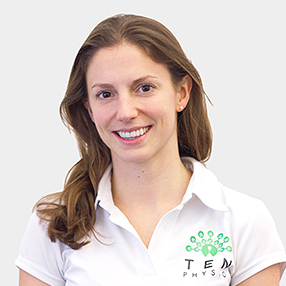 Qualifications:
MSc Physiotherapy
BSc Sports and Exercise Therapy
Ten's Dynamic Reformer Pilates Academy
APPI Pilates Matwork Level 1
International Diploma in Dry Needling/Medical Acupuncture
ITEC Level 3 Sports Massage Therapy
Registered with the HCPC
Member of the Chartered Society of Physiotherapy (CSP)
Registered with the Pelvic, Obstetrics and Gynaecological Physiotherapy (POGP) Society
Favourite Thing to Treat:
Spinal conditions, sports injuries, pre and post natal.
Bio:
Both a Physiotherapist and a qualified Pilates Instructor, Sarah was introduced to the world of rehab through an internship at a reformer Pilates studio in America. Inspired by the use of Pilates in rehabilitation, she studied Sports and Exercise Therapy at Leeds Beckett University, graduating with a First Class Honours degree and an award for Outstanding Academic Achievement.
During her time in Leeds, Sarah qualified as a Sports Massage Therapist and gained experience working with recreational and elite sports teams. She then completed her Masters Degree in Physiotherapy with Merit at King's College London. Since then, she has worked in one of London's largest NHS trusts as a Physiotherapist, gaining valuable experience in both inpatient and outpatient settings. While there, she worked on rehabilitating a wide range of patients who had undergone orthopaedic surgeries, as well as those with musculoskeletal, respiratory and neurological disorders.
With an interest in clinical Pilates, Sarah has completed a matwork workshop and Ten Academy's Dynamic Reformer Course.
She has also developed a keen interest in pre- and post-natal physiotherapy, and enjoys combining physiotherapy and clinical Pilates to support these women before and after childbirth.
Sarah places an emphasis on exercise-based rehabilitation, supported by the use of manual therapy and self-management advice in order to reach her patient's goals.