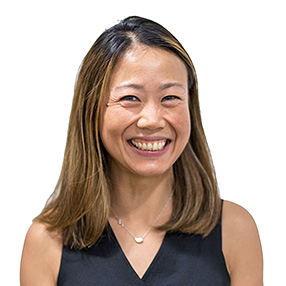 "Never Stop Learning, Never Stop Moving"
Qualifications:
Mat Pilates Certification, Pilates ITC Australia
Anatomy and Physiology Certification, Pilates ITC Australia
Certified Practitioner of Pilates (Comprehensive), Polestar Pilates
Pre and Post Natal Pilates Teaching Certification, The Center for Women's Fitness
Professional Certificate in Coaching, New York University
Classes:
1-1 Pilates (Studio and Mat)
Duet & Small Group Studio Classes
Reformer Pilates
Mat Pilates
Pre/Post Natal
Favourite Exercise:
Hanging On the Trapeze.
Bio:
SooHui's Pilates journey started 10 years ago when she was living in Hong Kong. On first trying it, she fell in love with the power of Pilates to change the body and the mind. She loved how Pilates opened a whole new world of muscle and body awareness that complemented all her other physical activities – running, swimming, scuba diving and tennis.
It was then she decided she had to make Pilates an indispensable part of her life. Living and training in culturally diverse cities as Singapore, New York, Hong Kong, Sydney, Shanghai, and now London, she has pursued her vision to make the philosophy and the practice of Pilates the defining characteristic of her life.
She aims to make a difference to people's lives by creating positive and pain-free movement experiences in a safe environment that will encourage them to never stop moving and subsequently lead happier and healthier lifestyles.
Through her experiences in teaching mat, studio and reformer classes around various studios in London, she has found that very often, clients equate movement to pain, especially when they experience muscle imbalance or an injury. As a result, they can become nervous – even fearful – of movement, which easily spirals into physical deconditioning.
She strives to work with clients, especially on an individual basis, to identify their needs, and equip them with the confidence and capability to help them execute personalised movement strategies built on correct body alignment and muscle recruitment, working towards a pain-free and happy existence.
When SooHui is not practicing Pilates or engaging in one of her favorite physical past-times, she loves to travel and experience different cultures, documenting both her travel adventures and her Pilates experiences in her blog (PilatesStories.com) and on Instagram (@soohui, @pilatesstories).