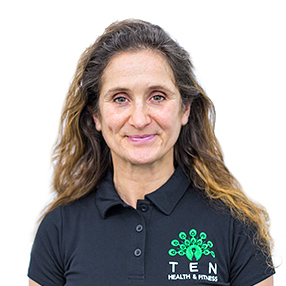 Qualifications:
Guildford School of Acting and Dance: 3 yr Acting Diploma
YMCA/CYQ: L3 Pilates Matwork
Pilates Training Solutions: Pilates Studio Equipment
Pilates Institute: Matwork and Group Reformer
Pilates Institute: Pregnancy and Pilates Matwork
Fitness Pilates Training: Matwork
Academy of Surfing Instructors (ASI): Stand Up Paddleboard (SUP) L1
ASI: Water Safety Rescue Award
SUP: Pilates Instructor
RSA: Exercise to Music
Classes:
Favourite Exercise:
Short Spine
Bio:
Sophy trained as an actor/dancer for three years at the Guildford School of Acting and Dance, and went on to work solidly for the next ten years, appearing in the West End, UK national theatres and on European tours.
Her favourite shows include The Rocky Horror Show, Buddy Holly, Much Ado About Nothing and Joey & Gina's Wedding.
Whilst performing in the West End, Sophy began to suffer a considerable amount of back pain, and as a result began to attend Pilates classes. As the exercises were effective and the class fun, Sophy realised that Pilates was for life, not just backache!
Sophy qualified in 2001 at the Pilates Institute and has a host of qualifications in Studio Equipment, Matwork, Group Reformer and Fitness Pilates.
She firmly believes that Pilates is for everyone, as the exercises can be adapted and modified to suit all. She has witnessed the most sedentary of people – even those burdened with injuries – achieve a level of fitness that has resulted in their leading an active and pain free life, fully committed to their Pilates classes.
Additionally, Sophy is an ASI qualified Stand Up Paddleboard Instructor and has been coaching clients on London's inland waterways for 6 years.
She has combined her two passions, Pilates and SUP, and teaches SUP-Pilates on the Grand Union Canal during the summer months – guaranteed to challenge the most experienced Pilates expert.