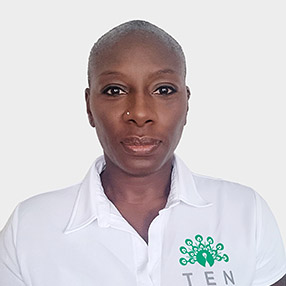 Qualifications:
BTEC Dip Level 4 Sport & Remedial Massage
Member of SMA (Sports Massage Association)
Student Member of BASRaT (British Association of Sport Rehabilitators)
Favourite things to treat:
Glutes, shoulders and feet
Stephanie is an 8x British Athletics Champion over several sprint distances, and competed in the 100m at two Olympic Games (1992 and 1996). She also represented Team GB at numerous major championships including World Championships. She is a European and Commonwealth relay medalist and an individual finalist, and is still amongst the UK's all-time fastest sprinters.
Since retiring from competition, Stephanie has been on the GB athletics coaching team at the World University Games, training promising athletes. During this time, she also qualified as a level 4 Sports and Remedial Massage Therapist, providing a range of massage techniques to prevent and treat injuries, optimising the healing process.
Passionate about helping people through the whole process, from injury to return to play, Stephanie is adding to her existing skills by studying for a Science degree in Sport and Exercise Rehabilitation. As a former athlete, and now a regular gym-goer/home-exerciser, Stephanie understands the frustrations that injuries can bring and the importance of keeping your body in tip-top condition to perform at your best, be it in elite sport or everyday activities.
An avid football fan, Stephanie is a life-long Manchester City supporter, travelling the country and Europe to attend games.