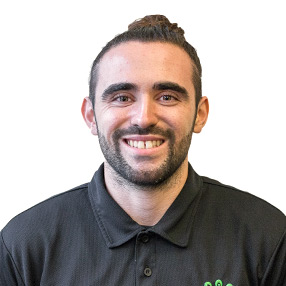 "Exercise is medicine"
Qualifications:
MSci Sports and Exercise Science
Ten Academy – Dynamic Reformer Course
Pre/Post Natal
Favourite Exercise:
Any compound movement
Bio:
Tommy has been physically active for as long as he can remember, playing recreational to semi-professional football over the years before a back condition stopped him in his tracks.
Combining a lifelong enthusiasm for movement and activity with his love of science, Tommy took his first career step by graduating from the University of Bath with an MSci Sports and Exercise Science degree.
A postgraduate season with the first team of Bristol City Football Club gave Tommy the opportunity to lead both gym and pitch based prehab/rehab sessions as well as taking the players through their strength and conditioning programs on a one to one and group basis.
It was also this experience – good as it was – that motivated him to move away from professional football and follow a deeper passion that had developed for helping people achieve their goals through exercise. Especially when underpinned by science and research.
Tommy is a firm believer that exercise is medicine. He loves helping people meet their goals no matter how big or small – meeting any goal is a step in the right direction. He is driven and enthusiastic to help empower you to reach your full potential.
In his spare time Tommy can be found in the gym, at the London Stadium watching his beloved West Ham United (which usually ends in disappointment) or exploring a new part of the world.