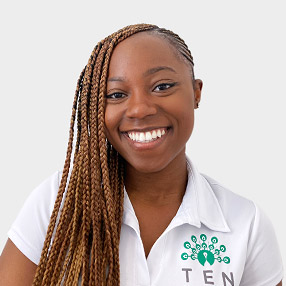 Qualifications:
MSc Physiotherapy
BSc Sports and Exercise Rehabilitation
HCPC
MCSP
Sports and deep tissue massage
Dry Cupping
Dry Needling
Level 2 Fitness Instructor
Level 3 Personal Trainer
Favourite things to treat:
Ankles, knees and hips, including post-operative rehabilitation and muscular imbalances.
Torah attended Middlesex University and completed a semester in California State University Sacramento, studying BSc Sports and Exercise Rehabilitation, before progressing on to complete her Masters in Physiotherapy at Brunel University.
Torah has both public and private sector experience in Physiotherapy. During Torah's career she has worked with a broad range of patients and treatments in the NHS covering Orthopaedics, musculoskeletal, hydrotherapy, Oncology, amputees and major trauma.
Torah has also worked in a private capacity treating pro/semi-pro athletes in football, American Football, Rugby and Basketball.
When she's not helping others Torah enjoys weight lifting, spinning and skating. Through her experience, Torah thorough enjoys creating a great client-physio rapport and providing an excellent experience with each physio visit.