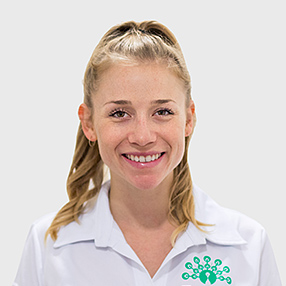 Qualifications:
DipHSc (Massage & Sports Therapy)
DipHSc (Therapeutic Massage)
Cert (Relaxation Massage)
Favourite things to treat:
Hips and shoulders.
Bio:
Vikki graduated from the New Zealand College of Massage over 8 years ago, and she has been working as a Therapist in both New Zealand and London since then.
Having combined this experience with her own background as a professional dancer, it's no surprise that Vikki recognises the importance of Massage Therapy when it comes to injury prevention and rehabilitation, and she's passionate about spreading this knowledge.
Vikki has worked with a range of clients throughout her career, from frequent gym goers to professional Rugby players, and pre/postnatal mothers to those suffering with work related back pain. Her work also extends beyond the treatment room, as she encourages her clients to adopt positive lifestyles changes, which in turn help them to achieve long-lasting results.
Whether you're training for a specific event and looking to increase your performance or reduce your recovery time, keen to avoid injury or looking to recover from one, suffering from work-related discomfort or simply in need of a bit of me-time, Vikki is able to call upon a range of techniques to tailor her treatment to your individual needs.
When she's not in the treatment room, Vikki is a massive fan of good food and lots of travel. She's also still very much committed to her other professional love of dancing!