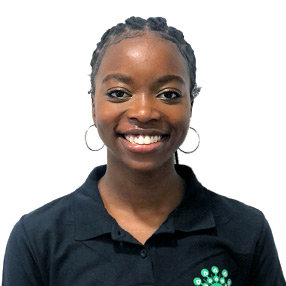 "Obstacles don't have to stop you. If you run into a wall, don't turn around and give up. Figure out how to climb it, go through it or work around it"- Michael Jordan
Qualifications:
Bachelor of Science in Sport and Exercise Sciences
Master of Science in Exercise Physiology
REPs Level 2 Fitness Instructor
REPs Level 3 Personal Trainer
Physiology Research Assistant
Favourite exercise:
Mountain climbers – an effective exercise that improves core strength, agility and cardiovascular endurance whilst working several different muscles.
Bio:
Born in Portugal, Zinilda took up various sports throughout her childhood, from athletics (100m, 200m, 400m, 4x100m relays) to handball and basketball, competing at borough championship and London Youth games level.
She went on to play football at British Universities & Colleges Sport (BUCS) level, whilst studying Sport and Exercise Sciences at Middlesex University, where she won both  Student of the Year and Player of the Year awards  – both in the same year. She also holds a Masters in Exercise Physiology from the University of Roehampton.
Whilst completing her undergraduate degree, she carried out work experience with rugby players at Allianz Park, conducting Physiology and Performance analysis. She also analysed performance in children to identify any issues in their movement and provide solutions to these problems. The real-life experience that she gained during this time allowed her to work with a wide range of people of differing ages, gender sand athletic ability.
Zinilda's passion for exercise has not only benefitted her physically, but has always been an essential part of her life, providing her with a way of coping with the stresses of work, study and the day-to-day.
When it comes to her clients, Zinilda's goal is to help them feel better during and after their sessions, and to encourage them to enjoy movement without any pressure to perform each exercise perfectly. As long as her clients are continuing to learn, she believes this will set them up for good habits in the future, help them improve and allow them to gradually increase their exercise difficulty.
During her spare time, she enjoys watching American football, practicing mat Pilates, reading and visiting her favourite parks.