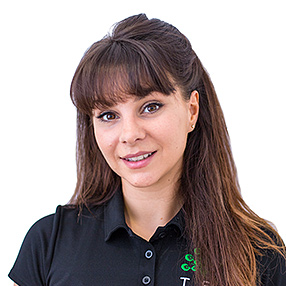 "If it doesn't challenge you, it doesn't change you."
Qualifications:
Ten Academy
BA Hons in Dance
Level 3 Diploma in Mat Pilates (REPS)
Classical Ballet Teaching Diploma (RAD RTS)
Dance Teaching Diploma (Associate of the IDTA)
Training in Progressing Ballet Technique (PBT)
Classes:
Favourite Exercise:
Reverse Icebreaker and Lunges
Bio:
Zoe attended London Studio Centre; University of the Arts London, where she gained a Bachelor of Arts degree. She went on to work with West End and Broadway choreographers, in London and toured nationally in several musicals, including a number of box office smashes.
Whilst working as a professional dancer, Zoe's Pilates practice supported her through a physically demanding schedule of 8 shows a week and helped her manage a series of severe repetitive strain injuries for years. Her trust and first hand experience of the positive health and wellbeing benefits of Pilates led her to train as a Pilates Instructor.
Zoe is a certified Level 3 Mat Pilates Instructor, a Reformer Pilates Instructor and a qualified Classical Ballet Teacher with the Royal Academy of Dance. She has taught Pilates and Classical Ballet in both the UK and Singapore.
An avid learner and teacher, Zoe exudes positivity in her classes and is dedicated to supporting her clients to become the strongest, agile and most confident athletes they can be. She works hard to ensure that each session combines variety, individual support and progression, within in a safe and holistic atmosphere.
Zoe believes that Pilates is the ultimate form of exercise to help strengthen, lengthen and tone the body, whilst also being an invaluable tool to help with rehabilitation and injury prevention.
Her combination of training in Pilates and Classical Ballet gives her the ability to identify postural issues by breaking down and analysing movement in detail. Zoe is passionate about helping clients improve functional movement habits and body awareness, and seeing them gain conscious control of all movements, with sustainable effects.
"Pilates is the complete coordination of body, mind and spirit," wrote Joseph Pilates. A committed advocate of this philosophy, and passionate about its benefits to improve overall health, Zoe is driven to share her love for movement and to educate people that Pilates is for everyone, at any stage of life.
In her free time Zoe loves to travel, read, dance and be with family and friends. An enthusiastic sportsperson, she enjoys Netball, Tennis, Body Combat, HiiT, Pilates and Yoga classes. She also adores animals.