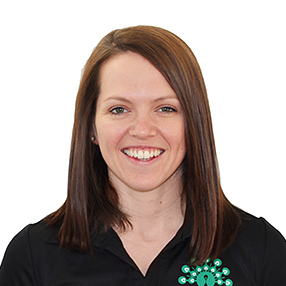 Your fitness is 100% mental. The body won't go where the mind doesn't push it!
Qualifications:
TenAcademy
Level 6 Diploma – Professional Musical Theatre
Level 3 Personal Training
Level 3 Mat Pilates
Circuit Training
Indoor Cycling
GP Referral
Classes:
Favourite Exercise:
Oblique Pike
Bio:
Katie originally trained as a dancer at the Italia Conti Academy of Theatre Arts in London. After graduating with a Diploma in Musical Theatre she went on to work for 8 years as a professional dancer, working and travelling all over the world.
The fitness industry was a natural progression as injury prevention and body image is an important part of a dancer's life.  Katie spent a lot of time in the gym trying to maintain her weight and overcome muscle imbalances. She was introduced to resistance training and began to see and feel a massive change in her body.
Four years into her dance career, Katie obtained her Level 3 Personal Training qualification and used it to help educate herself and her fellow dancers on the importance of resistance training and correct technique.  She soon began training other dancers, creating programmes that combined resistance training, HIIT training and Pilates to help them develop strong, flexible, injury-free bodies.
She then went on to gain her indoor cycling, circuit training, GP referral Mat Pilates – and most recently Dynamic Reformer Pilates – qualifications.
Katie is excited to be part of the Ten Team and tries to bring the passion, energy and discipline of her dance background into her sessions to help promote and maintain a high level of strength, flexibility, alignment and posture.