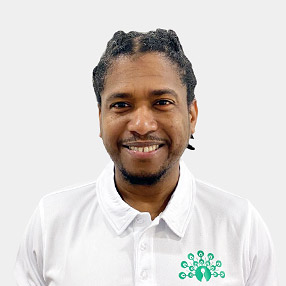 Qualifications:
Sports Massage
Swedish Massage
Manual Lymphatic Drainage
Myofascial Release
Favourite things to treat:
Migel's passion for massage was sparked at childhood, growing up as part of a family that embraced the benefits of complementary medicine as an invaluable aid to their health and wellness. It was further ignited when he attended a lecture by an Orthopaedic Doctor whilst serving as a Recruit Training Instructor in the army of his home country, Trinidad and Tobago.
A year later, Migel followed his passion and completed his first course in therapeutic massage which enabled him to set up and run a successful practice. In 2018, his quest for further education brought him to the UK in 2018 where he completed a degree in Sports Therapy and Rehabilitation.
A committed advocate of life-long learning, Migel's skillset and practice has expanded to include other manual therapy modalities, including Traditional Chinese Medicine, so he is trained to use acupuncture in his treatments.
As Miguel puts it: "Every day I fall in love with my work in helping people out of their pain and teaching them how to help themselves. I feel honoured to be able to continue to share this passion with others".