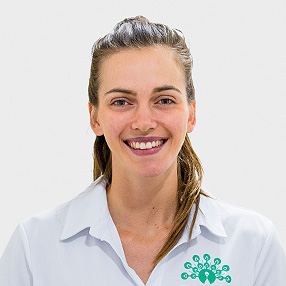 Qualifications:
Bachelor of Physiotherapy (University of Queensland)
Dry Needling and Western Acupuncture
HCPC
MCSP
AHPRA: Australian Health Practitioner Regulation Agency
APA: Australian Physiotherapy Association
Mat Pilates
Favourite things to treat:
Knee injuries, particularly ACL rehabilitation
Neck pain and dysfunction
Sports injury rehabilitation.
Bio:
Registered with the Health and Care Professions Council and Chartered Society of Physiotherapists.
Born and raised in Australia, Montana graduated from the University of Queensland with 1st Class Honours. Having completed her Physiotherapy degree, she went straight on to work in a private sports and musculoskeletal practice in Brisbane. It was there that she further developed her knowledge and application of manual therapy and soft tissue release techniques.
During this time, she continued to develop her breadth of treatment methods by completing courses in Dry Needling and Western Acupuncture. She also joins Ten with an existing qualification in Mat Pilates, and she's no stranger to the benefits of incorporating Pilates into a patients' rehab programme.
Montana moved to the UK recently and began working in a private hospital, on their orthopaedic ward. This in-patient training gave her a great understanding of surgical procedures, such as total joint replacements (on knees, hips and shoulders) and spinal surgery. She found it really rewarding to witness patients through their whole journey, from pre-operative assessments to the ward and on to post-operative care. This holistic outlook on healthcare has stayed with her, and she strives to approach all client care in this manner.
Being a keen runner, gym-goer, and cook, Montana loves promoting a healthy (but balanced) lifestyle. She enjoys working with patients from all walks of life, and utilising the talented team here at Ten to help clients achieve their goals.