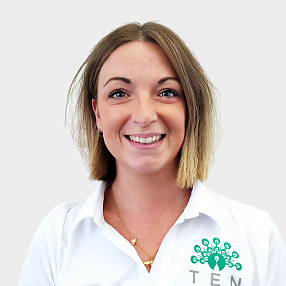 Qualifications:
HCPC
MCSP
BSc Physiotherapy Cardiff University – 1st class Hons
Physiotherapy registration in Canada
APPI Pilates Matwork
Favourite things to treat:
Sport and specifically dance injuries. Special interest in managing hip pathology.
Bio:
Registered with the Health and Care Professions Council, Member of the Chartered Society of Physiotherapy.
Stephanie graduated from Cardiff University in 2011 with a first class honours degree. She worked within the NHS gaining experience in the core rotational areas before specialising in musculoskeletal physiotherapy. She also worked privately in sport, and providing physiotherapy for rugby, football and hockey players.
She moved to Canada to gain experience working as a physiotherapist in another country, where she was able to further develop her MSK skills in a private setting, whilst using mat and equipment-based Pilates as an adjunct to her treatments.
Since relocating to London in 2017, Stephanie has worked in both NHS and private practice, specialising in physiotherapy for dancers. (She now works with professional dancers both in London and on tour.) She has also developed expertise in managing complex hip conditions related to both dancers, athletes and the general population.
Stephanie continues to develop and update her clinical skills by attending regular courses and conferences. She also likes to stay up to date with the latest in research and audit to ensure her treatment methods are the most evidence based.
A keen swimmer, Stephanie swam the Dart 10K last year. She also enjoys doing Pilates herself and finds this helpful in her ability to teach others. She is a lover of all things movement and enjoys the challenges of problem solving, analysing and optimising movement in all of her clients.